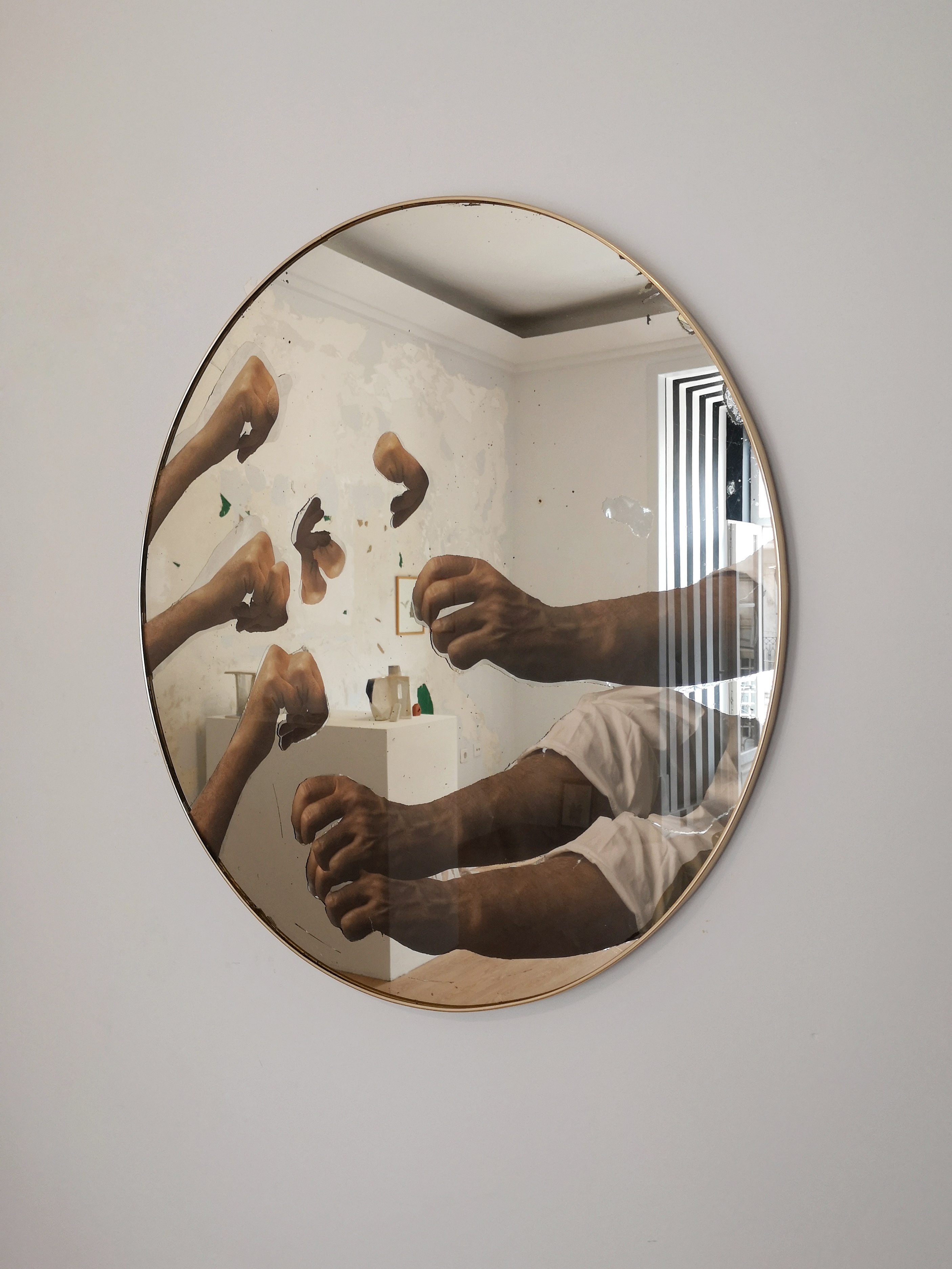 já vejo a casa de maneira diferente [I already see home differently]
(2020; cutouts, mirror; Ø70cm)
I already see home differently. It and I are becoming one. I won't leave it and it won't be without me. I'm using corners which I didn't know before and noticing marks on the wall which I hadn't notice. my apartment and my body are becoming one. my mind and my home are also merging. I realize less and less where my feet end and the floor begins, where my legs end and the chair's begin. where my fingers end and the pen begins. where my hair ends and the curtains begin, where my eyes end and my street begins.

in the morning my body becomes large, exactly the size of the house. at night the house becomes small, almost the size of my body.

my sense of space is becoming part of my self-consciousness. this fusion gives me seconds of comfort and eternities of claustrophobia. I want it to be over, but I fear it will be over.
---
já vejo a casa de maneira diferente
(2020; recortes de papel, espelho; Ø70cm)
já vejo a casa de maneira difer

ente. eu e ela estamos a tornar-nos uma só. eu não saio dela e ela não fica sem mim. estou a usar cantos que não conhecia e a ver marcas nas paredes que não havia visto. a minha casa e o meu corpo estão a tornar-se um só. também a minha cabeça e o meu lar se estão a fundir. cada vez men

os percebo onde acabam os meus pés e começam o chão, onde acabam as minhas pernas e começam as da cadeira. onde acabam os meus dedos e começa a caneta. onde acabam os meus cabelos e começam as cortinas, onde acabam os meus olhos e começa a minha rua.

de manhã o meu corpo torna-se grande, exatamente do tamanho da casa. à noite a casa torna-se pequena, quase do tamanho do corpo.

a minha noção do espaço está a tornar-se parte da minha auto-consciência. esta fusão dá-me segundos de conforto e eternidades de claustrofobia. quero que acabe mas temo que acabe.